As one of many millenials, I grew up with Harry Potter. It was the first book I picked out for myself in a bookstore. It was an old-looking, worn translation of Harry Potter and the Sorcerer's Stone (Harry Potter y la piedra filosofal). As an eager seven year old, I was happy to hear that there was a magical world out there that I was ready to discover. I became obsessed with the books. I asked for boxed sets for Christmas next to a bunch of young adult books. I was happy and it was my entryway to "harder" literature. Soon thereafter, I was reading Jane Austen, Emily Brontë, Shakespeare plays, and Golden Age Spanish novels as a young teenage girl. However, Hogwarts always had a place in my heart.  I went to midnight releases (much to my parents' dismay) at Borders, I watched the movies and I reread the books over and over again. It was magical.
When I first heard about the Harry Potter play, Harry Potter and the Cursed Child, I was a little confused. I thought JK Rowling had stated that she would no longer enter this fantastic world of wizardry that she herself had created. Nonetheless, I was excited. It was Harry Potter, after all…my own personal magical door to literature.
I personally did not attend the Midnight Release. Perhaps a former, younger version of myself might have enjoyed it, but I did not feel up for it. Still, my boyfriend was gifted a copy and I started reading next to him.
It is a shame to say that this book read like fan fiction…and not even good fan fiction. In fact, very bad fan fiction. I understand that the Harry Potter series and Cursed Child were written in two different mediums (fiction and theater, respectively), but still. Cursed Child still belongs in the Harry Potter universe and it makes no sense.
*Spoilers Ahead*
Here's a list of complaints/observations:
Hermione turns into a bitter woman because she didn't end up with Ron Weasley.
Seriously? Seriously? Hermione: the SPEW advocate, the strong female role in the entire series let her whole life be controlled about whether or not she ended up with a Weasley? I call bullshit. #Feminism
2. Rose's life matters, but Ron's and Parvati's kid doesn't?

Flawed Logic.
3. Voldemort had sex with Bellatrix?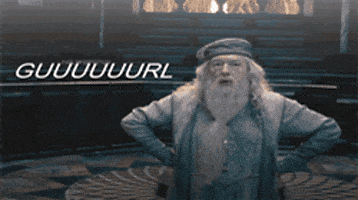 I'm sorry, but how can a man who split his soul into seven freaking pieces be able to, you know, provide his essence?? Delphi was made basically from one human wizard and one weird freaky nonhuman subspecies. This does not and will never make sense to me.
4. The future depends on the life of Cedric Diggory
…really? The most boring dude in the history of the world? It all depended on that one event at the Triwizard Tournament? I'm sorry. I don't buy it.
5. How does this fit into the HP Universe?
I truly don't know. I want to try and make sense of it in order to appreciate it better, but I didn't need more. Harry Potter was a beautiful part of my life, but I would rather read ten different books about other things that happened in the world. I don't need Harry's scar to hurt again and I don't need another skewed, backwards tale.